Say you own a furniture manufacturing company and you need to plan your human resources. With Redmine X Resource Management it couldn't be easier. However, if you have a limited number of machines such as CNC's or lathes, they become a resource you inevitably need to plan too. And that might be tricky. This article will show you how that with Redmine X Resource Management, you can plan the capacity of your machines as well.
There are generally two types of machinery. The ones that need a human operator during the whole time they are being used and the ones that require very little human input (such as automotive robots). We'll be focusing on the first type which is typically a CNC, lathe, or any kind of vehicle such as a digger, excavator, or even a harvester, or a tractor. They simply don't run without a human input.
Redmine Capacity Plannging
Any time you have fewer machines than people that operate it, it becomes a resource you need to plan. In this example, we'll focus on a single CNC machine that is operated by two workers. Their shifts overlap, so we need to be able to plan how many hours/day is the CNC being used.
First, let's define a tracker (or task type), a group, and project roles. The tracker and project roles are not 100% necessary, but they are convenient for further filtering & distinction. Let's:
Create a tracker called Machine required that we will assign to tasks that needs a particular piece of machinery. You can copy the workflow from any other similar tracker.
Then we create a group called CNC Machine 1 which will represent the single CNC machine we have.
And last, we will create project roles called Machine operator and Machine. The Machine role can inherit the workflow of the operator as this is purely for convenience purposes - a group has to have a role on a project and using any existing roles for a machine is weird.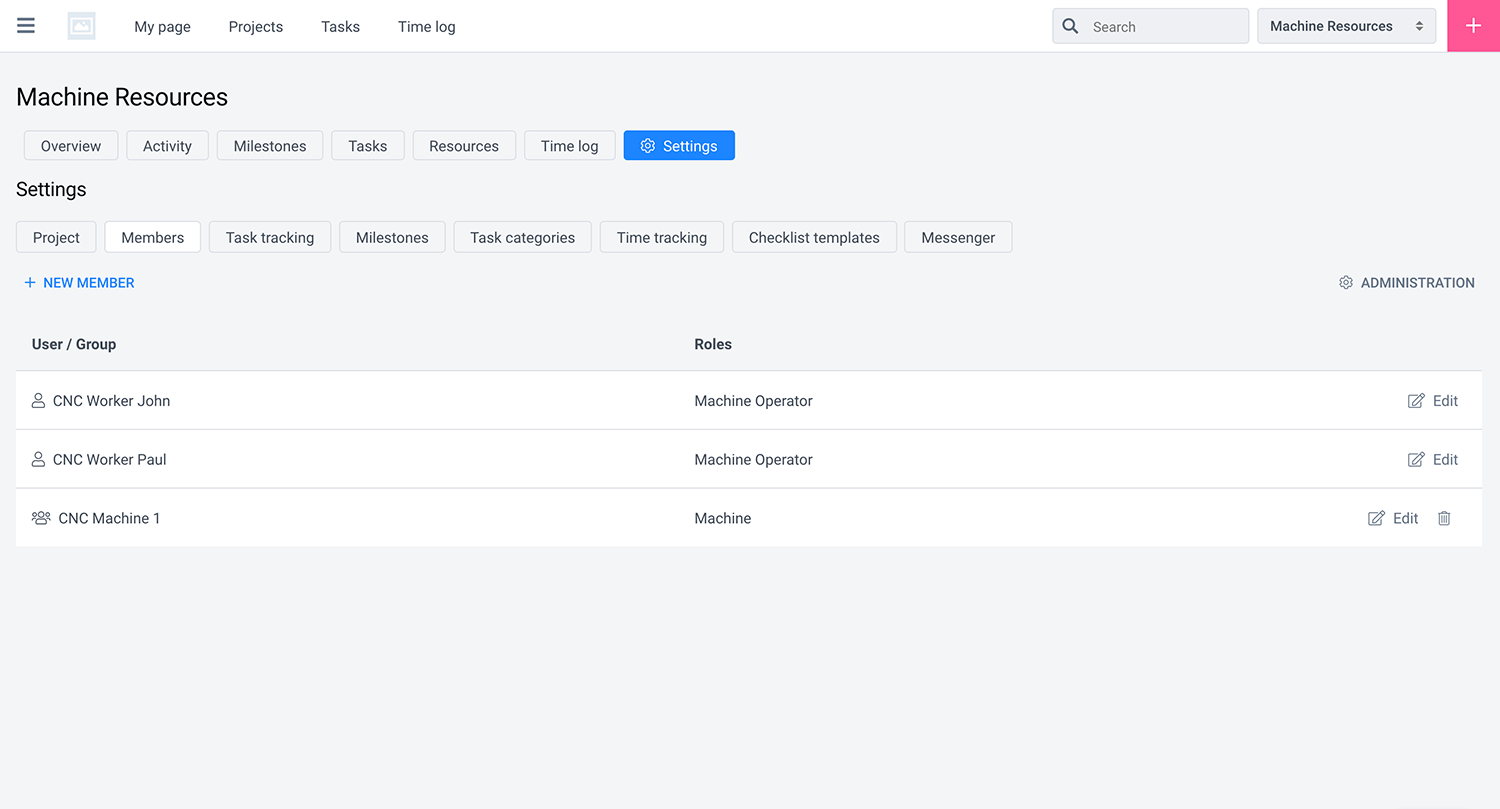 Now that we have everything ready, let's create a project and:
Add CNC workers John & Paul as machine operators.
Then add the newly created CNC Machine 1 group as Machine - this way there's a clear distinction between the two roles.
Add last, create tasks for the two employees.
Add the Subject
Assign the task to John
Choose type Machine required
And most importantly, set the estimated number of hours
Redmine Resource Management
And now that we have both tasks created, let's take a look at them in Resource Management. We can see that John's and Paul's tasks overlap by 2 hours which presents no problem because John's assignment for June 24th is 6 hours and Paul's just 2 hours - meaning the CNC machine will be used 8 hours and that doesn't overload any of the operators. Paul will continue working on his tasks on June 25th for 8 hours and since he's the only one using the CNC on that day, we planned everything perfectly.
See Redmine Resource Management In Action
Share this if you liked it!
Take a look at our Youtube Channel.